Students are getting ready to head back to school and knitters and crocheters are getting ready to delve into autumnal projects.  Get prepared for cooler weather knitting with our Dog Days of Summer Sale.
30% off Cotton and Cotton Blend yarns
20% off all other regularly priced yarn
15% off already-discounted bags

Friday and Saturday August 9 + 10
phone orders welcome
**Limited to in-stock yarns only**
DogDaysCotton2013
DogDays20
Tax-free Weekend Sample Sale
Following our long-standing tradition, this weekend is our Sample Sale.  Take home a pre-knitted or crocheted store sample at a great price.
Knit, Swirl Knit-A-Long
There is still time to join us! Apart from the Coat of Many Colors and Plum Perfect, the Sheer Beauty coat is a top favorite.  With a multitude of laceweight mohair options in the store, find the perfect color palette to create a unique coat.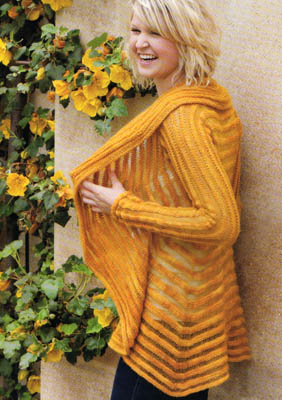 The trunk show featuring samples in each different coat shape will arrive any day.  Try on the samples and determine what size and shape option suits you best.
For technique tutorials and articles on selecting yarns and sizing, visit
knitswirl.com
We will be hosting two Knit-A-Long groups, The evening group will begin Tuesday August 20, 6:00 – 7:30 p.m.  The daytime group will begin Wednesday August 21, 1:00 – 2:30 p.m.  We will continue to meet on these days and times. The Knit-A-Long is free, although we do ask that you reserve a seat, at least for the first two sessions, so that we make sure we have enough chairs for everyone.
The first session we will help everyone cast on their stitches (500 +) and the the second session we will help everyone join to work in the round (three rows are worked before joining).
Classic Movie Night
Friday September 13 will be our first Classic Movie Night.  Bring your projects (finished and in-progress) and hang out with us on the second Friday of every month.  Share your finished projects during Show and Tell before the movie starts.  We'll provide the popcorn and you BYOD (Bring Your Own Drink – in a spill-proof, leak-proof, condensation-free travel mug).
As we get closer to the date, we'll post more information on
A Woolie Tale.
Show and Tell: 6:00 p.m.
Movie Time: 6:30 p.m.
Admission: 1 canned good for a local food bank